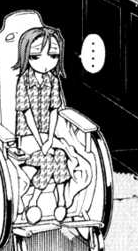 Hatsuse is Mikasa's younger sister. She is also the reason why Mikasa was working for Sylvia von Phoenix.
Not much is shown or known about Hatsuse, as she is often seen in the background and in relatively few scenes. She is terminally ill and has to be treated by Flyman, who under orders from a certain Royalty, forces Mikasa to work as a blood servant in return for the curing of her illness.
Her name is only spoken by Flyman twice.
Ad blocker interference detected!
Wikia is a free-to-use site that makes money from advertising. We have a modified experience for viewers using ad blockers

Wikia is not accessible if you've made further modifications. Remove the custom ad blocker rule(s) and the page will load as expected.