Ad blocker interference detected!
Wikia is a free-to-use site that makes money from advertising. We have a modified experience for viewers using ad blockers

Wikia is not accessible if you've made further modifications. Remove the custom ad blocker rule(s) and the page will load as expected.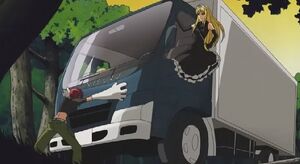 The truck is one of the vehicles which Hime owns. It is mainly used for transporting missions and on few occasions for purely traveling. Because of its size and mass, it is a
formidable weapon when used to ram enimies. Two types of trucks are shown in the series, one modeled after a
Isuzu Giga
and another after
Isuzu Elf
, suggesting that Hime may own more than one. The NISUZU is used instead of ISUZU, because of the copyright to the company.